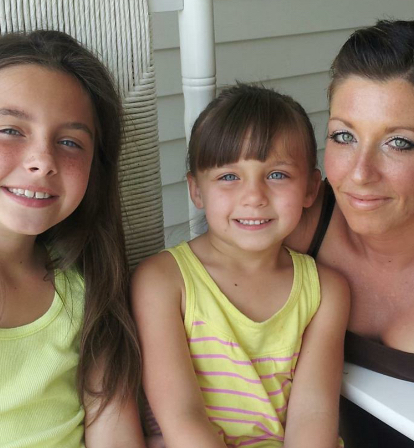 Learn More About the Life & Legacy of
Judy Malinowski
Support Judy's Foundation
"I didn't deserve this, no one does."
"I didn't deserve this, no one does."
Daughter. Sister. Mother.
Judy Malinowski's story begins long before the attack that took her life.
A former pageant winner who was named Miss New Albany, Judy was beautiful, inside and out.
As a young adult, Judy was diagnosed with ovarian cancer. After beating the disease once, Judy was told the cancer had returned in 2006. Judy underwent a full hysterectomy and during recovery, became addicted to her pain medication.
With the love and support of her family and the help of rehabilitation, Judy beat her addiction, just as she beat cancer.
Judy's life was taking a turn for the better.
" … she was completely on fire …"
In 2015, Judy met Michael Slager. Judy would call Bonnie about Mike. Something was wrong. Bonnie had a bad feeling about him and the relationship, and when Judy tried to end things, Mike refused to accept it.
On August 2, 2015, Mike followed Judy to a gas station where an argument ensued.
Michael Slager doused Judy with gasoline and lit her on fire with a cigarette lighter.
Then he walked away.
"… staggering around in the grass …"
When Bonnie got the call from the hospital, doctors told her Judy had been badly hurt. Hours later, Bonnie learned the extent and severity of her daughter's injuries.
"Tell me there's hope! Tell me there's hope."
Bonnie was warned by doctors that she would not recognize her daughter, who suffered third and fourth degree burns over 70% of her body.
Doctors thought she had hours to live.
"It just didn't even look like a human being … All I could see was that she was alive."
60 surgeries.
Skin grafts.
Being brought back to life multiple times.
7 months in a coma.
Unable to walk.
Barely able to speak.
A fighter.
Judy lost her ears, fingers, and most of her eyesight. She lost her hair, eyelashes, and eyebrows. But Judy never lost her spirit, her faith, or her bravery.
Knowing she would die from her injuries, Judy recorded a statement from her hospital bed. Judy argued Mike should be charged with murder and given a life sentence.
700 days after the attack, Judy died.
In 2018, Michael Slager pleaded guilty to murder and was sentenced to life without parole. Judy's testimony was shown to the court – the first time such evidence was allowed.
Judy's story inspired Ohio lawmakers to pass Judy's Law to create tougher prison sentences for attacks that permanently disfigure or disable.
Her daughters were there at the signing, celebrating their mom's life, legacy, and vow to help other women.
"Mommy did not die in vain."
We are fighting to improve and expand Judy's Law and expand to other states with the goal of one day having Judy's Law become a federal statute.
Learn more about Judy's House, a safe place for single mothers like Judy and their children to help address the trauma and disruption of domestic violence.
Our
Mission
Judy's Foundation will assist individuals and families suffering from what we believe to be a worldwide crisis resulting from the deconstruction of the natural family. A shortlist of effects includes domestic violence, drug abuse, and human trafficking. Also, to support alternatives to the current first reliance on social services. Notably, including functional aspects of the extended family. Conjointly to identify (through investigation and research) and leverage ideologies that diagnose root causes of the said crisis and bring awareness through social media resources such as books, seminars, videos and, documentaries. And to facilitate the rehabilitation of entrenched ideologies, policies, and procedures that mitigate against family and to promote healing and reconstruction in the natural family itself.
Our
Vision
Judy's Foundation is committed to promoting the long-term strength of the natural family unit, reducing the reliance on governmental social services, helping to prevent loved ones from falling over the edge, and preventing further tragedies.
Our
Values
Judy's Foundation believes every victim deserves support, help, and compassion, regardless of addictions or dependence, past or present, on alcohol or drugs.